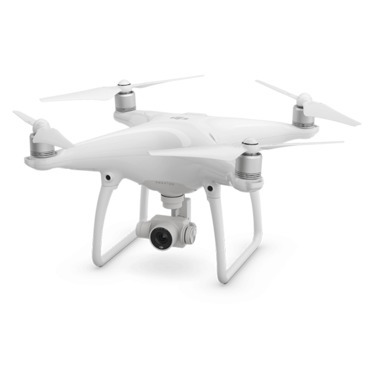 Phantom 4 is a new version of the most popular unmanned aerial vehicle created by DJI.
It has practically everything we could want from a consumer drone.
The refreshed version has a lot of news that can be seen at first glance, because the drone housing has changed, which is differently shaped.
The changes not only affected the aesthetics, but also new functions and technologies appeared.
The most important of them is the Obstacle Sensing System, i.e. avoiding obstacles.
The device uses the GLONASS system, which allows for even more accurate position determination.
The drone has been equipped with a new camera that records video in 4K quality.
Product Description
The new Phantom 4 has an innovative obstacle avoidance system. The Obstacle Sensing System uses cameras mounted on the front and bottom of the device to detect obstacles in the aircraft's flight path. Their main task is to keep track of everything that is happening around the copter. The Phantom 4 is aware of objects around it, and can slow down, accelerate, or hover entirely to avoid a collision.
Intelligent Flight Support System
The Phantom 4 is equipped with a dual satellite positioning system and an increased field of view. The drone's software converts the image from the cameras to a three-dimensional map of the surroundings, thanks to which flights with the new envelope are safer and more reliable both in open space and indoors.
TapFly function
The new camera system is used not only to avoid obstacles. The new Phantom has the new TapFly feature. Thanks to it, it is enough to point the selected point on the preview screen (e.g. on a tablet), and the DJI copter will fly in the designated direction for the set distance along a perfectly straight line. This option will be useful not only for novice cinematographers, but also for filmmakers who expect perfectly smooth shots. ActiveTrack
Camera
New camera. This is probably one of the most important elements of the new drone. The camera with which the Phantom 4 is equipped is of our own production. It will allow you to record video in 4K resolution at 30 frames per second (and 1080p at 120 fps). The producer also announces better optics, which will result in higher quality of recordings. We also have the ability to take photos with a resolution of 12 million pixels. The new camera is mounted on the Gimbal. Thanks to it, during the flight, the stabilization system cancels unwanted movements during video recording.